Abortion in Ireland: committee votes for constitutional change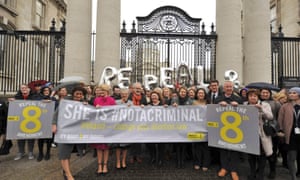 There has been a strong campaign for women to be allowed to have an abortion in cases of rape and incest, or if there has been a fatal foetal abnormality diagnosis.Figures from the Health Service Executive showed 26 terminations were carried out under the

full story
Related news
Proposed abortion ban stalls in Indiana legislature
Indianapolis Star,
Indiana
- January 26, 2017
A proposal to outlaw and criminalize all forms of abortion in Indiana has stalled in state legislature.Sent!A link has been sent to your friend's email address.Posted!A link has been posted to your Facebook feed. Join the ConversationTo find out more about Facebook ...
Indiana legislators are proposing an all-out abortion ban
Mic - January 13, 2017


Legislators in the Indiana House of Representatives have proposed a bill that would reverse existing state laws making abortion legal. The legislation, House Bill 1134, maintains human life begins the moment "a human ovum is fertilized by a human sperm," creating ...
Lester: Is Illinois GOP uniting in opposition to Rauner, abortion?
Chicago Daily Herald,
Illinois
- October 9, 2017
State Rep. Jeanne Ives of Wheaton says the state Republican party, criticized in recent months for its internal squabbles, is banding together in opposition to GOP Gov. Bruce Rauner's approval of an abortion funding measure last month."Certainly, the party's fractured ...
Bill to reverse telemedicine abortion bans in Idaho
KBOI-TV,
Idaho
- March 4, 2017
BOISE, Idaho (AP) - A prominent anti-abortion group in Idaho has introduced legislation reversing two abortion laws at the center of a legal battle.Women are currently banned from receiving abortion-inducing medication through telemedicine in Idaho under two laws ...
Texas Lawmaker Seeks Insurance Policy Abortion Ban
An effort to prohibit coverage of abortion by many health insurance plans in Texas is back, despite stalling in previous years.Republican Sen. Larry Taylor of Friendswood is seeking to bar health insurance plans offered through the Obama administration's signature ...