Anne Robinson on her abortion 'black doom'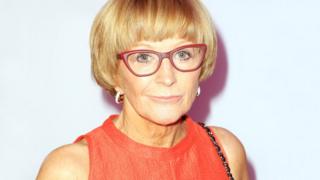 TV presenter Anne Robinson has recalled feeling the "most terrible black doom" after having an abortion the year after they were partially legalised.Robinson spoke of it for the first time in a BBC Two documentary, Abortion On Trial, being shown to mark 50 years since the 1967 Abortion Act.Overall, most of those involved in the programme said the decision to have an abortion was right for them.They argued it was their right to have control over their own body.'Keeping quiet'Speaking ahead of the documentary's broadcast, Robinson questioned why abortion was not more openly talked about."This all has been there for 50 years and we are still hesitant and ashamed," she said.Robinson, who later had one child, said "keeping quiet" about her own experience was "out of the question" when she had asked people to talk about theirs.

full story
Related news
A New Federal Court Judge Compared Abortion To Slavery. He's Not Alone.
HuffPost - July 26, 2017


Outside an abortion clinic in Huntsville, Alabama, last month, protesters held signs reading âBabies are murdered hereâ and âI stand against Planned Parenthood.â They also held signs featuring a photo of a black toddler they claimed to have helped âsaveâ ...
Research Once Again Proves Abortion Restrictions Punish Poor Women The Most
Huffington Post - February 27, 2017


Abortion may be legal, but reproductive rights advocates have long held that for poor women who cannot access abortion services because it costs them too much â or because they have to travel hundreds of miles to get to a provider â âchoiceâ is an empty word. New ...