Irish abortion law: Citizens Assembly vote favours change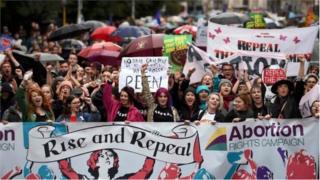 A body set up advise the Irish government on constitutional change has voted to replace or amend the part of Ireland's Constitution which strictly limits the availability of abortion. Abortion is only legal in the Republic of Ireland if the mother's

full story
Related news
Bill to put abortion ban in Alabama Constitution advances
A proposal to place the right to life of the unborn in the Alabama Constitution is a step away from going to voters for approval.The Senate Health Committee approved the proposed constitutional amendment on an 8-2 vote. It moves to the Senate.If approved by at ...
Oregon House passes abortion-funding bill
The Oregon House has advanced a $10 million reproductive health care bill that would require all insurance companies across the state to cover abortions and a variety of other reproductive services at no cost to the patient â regardless of income, insurance type ...
Group puts abortion ruling at center of judicial election
Fairbanks Daily News-Miner,
Alaska
- November 4, 2016
Alaska Family Action President Jim Minnery said people shouldn't support the justices because they voted to strike down a law requiring parental notification of a minor seeking an abortion. In a 4-1 decision in July, the state Supreme Court invalidated the law ...