TV tentatively starts talking about abortion
Mankato Free Press
,
Minnesota
- November 4, 2015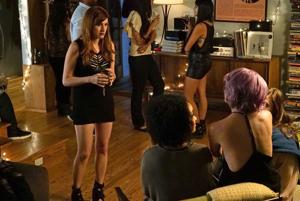 I wouldn't necessarily describe this as a positive reference to abortion on television; in fact, it's the first scene that establishes that Mrs. Bunch is someone who is living out her own ambitions through her daughter in a way that might be damaging to her mental health. Rebecca isn't pregnant at all, nor is she in danger of becoming so at that point in the story. But it's at least an acknowledgement that if a teenage girl got pregnant and didn't want to be, abortion would be a reasonable alternative for her.Another show on the same network managed to consider abortion even more seriously as an option.

full story
Related news
Yes, abortion reversal will work
News Sentinel,
Indiana
- February 27, 2017
On Feb. 15 I testified before the Indiana House Public Policy Committee on House Bill (HB) 1128, a bill that offers women abortion pill reversal information. Planned Parenthood, Indiana's largest abortion business, unsuccessfully attempted to stop the bill in ...
TV News Programs Make Inaccurate Statements About Abortion, Study Finds
TeenVogue.com - April 18, 2017


It's no secret that your favorite television show probably gets abortion wrong, if it features it at all. In fact, a recent study found that television in general portrays abortion as easy to access, though the reality is quite the opposite. According to an analysis ...
A New Federal Court Judge Compared Abortion To Slavery. He's Not Alone.
HuffPost - July 26, 2017


Outside an abortion clinic in Huntsville, Alabama, last month, protesters held signs reading âBabies are murdered hereâ and âI stand against Planned Parenthood.â They also held signs featuring a photo of a black toddler they claimed to have helped âsaveâ ...
Our View: Five decades later, it's time to change abortion debate
Today's News-Herald,
Arizona
- April 3, 2017
Few things have shaped modern American politics like the subject of abortion. Roe Vs. Wade, the landmark Supreme Court decision that declared abortion was a constitutional right, was settled 44 years ago – yet five decades later we're still talking about it ...