Why, 50 years after the Abortion Act, it's time to abolish the law altogether
The Guardian
,
New York
- October 25, 2017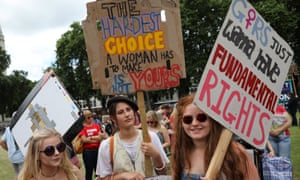 The 50th anniversary of the Abortion Act this week has left me reflecting on the 40th and 30th anniversaries. Ten years ago, abortion rights were under near constant attack, a pincer movement by a couple of Conservative MPs and the Daily Mail, advancing elaborate, often rather confusing arguments for the miracle of the foetus. The Daily Mail was so entranced, for a while, by the marvel of gestation that it ran a double-page spread of the ultra-sound scans from a horse. The aim was to make a wedge issue out of the time limit, reduce it from 24 weeks to 21, with a 10âminute rule bill tabled by Tory MP Nadine Dorries suggesting a âcooling off period after the first point of contact with a medical practitioner about a terminationâ.It was plain, it seemed then, that the time limit was of no real consequence â late term abortions were a small proportion of the overall number.

full story
Related news
BREAKING NEWS: Late Term Abortion Clinic to Close in Maryland
GERMANTOWN, Md., August 26, 2017 (LifeSiteNews) —  "A Maryland abortion clinic, one of only a few that provides late-term abortions to women in the United States, plans to close its doors and is under contract to be purchased by an antiabortion group that ...
Florida's abortion waiting period back in court
Tampabay.com,
Florida
- July 19, 2017
In documents filed with the court, lawyers for Gainesville Woman Care, an abortion clinic that launched the legal challenge along with the American Civil Liberties Union of Florida and others, argued that the Supreme Court's ruling made clear the statute should ...
Countries Donate Millions To Counter Trump's Global Anti-Abortion Rule
Huffington Post - March 3, 2017


While the 1973 Helms Amendment already prohibits U.S. funds from paying for abortion procedures, the global gag rule takes it one step further by cutting U.S. funding to groups that offer information to women about abortion, or pay for abortions with non-U.S. funds.The ...